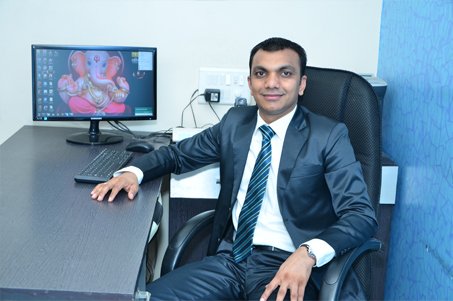 Paediatric Physiotherapist, & Paediatric Aquatic Thrapist
PT, C/NDT ( certi by NDTA, USA )
SI ( Course 1 and 4 Certi by USC, USA )
Aquatic Therapy ( Water Specific Therapy – Halliwick, certi by IATF, Switzerland )
Dr Tejas Patel has passed his schooling from Shree B R Patel Nutan Fellowship High School, Ashram Road Ahmedabad in 1997 and took admission in Bachelor of physiotherapy (BPT) in Srinivas College of Physiotherapy, Mangalore affiliated to Rajiv Gandhi University of Health Science, Bangalore. In 2002 he passed BPT with average aggregation of first class and done his internship in V S Hospital, Ahmedabad.
During graduation he was not sure about specialty but during internship with influenced of his senior clinical therapist and got interest in paediatric rehabilitation.

Soon after the completion of internship he got appointed at KALARAV CP Centre is a NGO run by NASEOH (national society for equal opportunities for the handicapped). Here he got lot of opportunity to explore him self and realized that his analytic and kids friendly approach suite best for working with specially challenged children.

With inspiration of Dr Mona Patel and other senior colleague he had also done so many short courses about paediatric rehabilitation.
Along with working at KALARV Dr Tejas Patel was also running Paediatric Rehabilitation department at Shree Varahi Physiotherapy Clinic at Ranip Ahmedabad till 2005. It was joint venture with close and childhood friend Dr Mitesh Patel.

After association with Dr Mona Patel, Dr Tejas Patel has started SPARSH in 2006 and expanded in 2011 with success mantra of "Option of HARDWORK does not exsist". Here he performed key role in developing a strategies to get succeed and that is hard work, continues learning from kids, from senior colleagues, physician and even from juniors colleague.

Dr Tejas Patel has also realized that "learning process never end, nobody born with talents, they develop it by their inner instincts and kin focus on it". In year 2012 Dr Tejas Patel had done his certification of NDT (Neuro Developmental Treatment / Bobath certificate course in management and treatment of children with cerebral palsy and other neuromotor disorder) which approved by NDTA ( Neuro Developmental Treatment Association ) USA. His instructor was Jane Styre Acevedo PT,C/NDT from Philadelphia USA. After getting trained under her Dr Tejas Patel and Dr Mona Patel had got different direction in form of analyzing and developing individual SMART functional goal and impairements prioritized based protocol for every children.

They have developed dynamic thinking process in paedatric rehabilitation and that way helped parents to visualized futuristic approach about their kids. Along with working at Sparsh Paediatric Rehabilitation Clinic Dr Tejas Patel also work at Gujarat Cancer Research Institute, M P Shah Cancer Hospital, Civil Hospital Campus, Ahmedabad from Jan 2005 to April 2014. After that Dr Tejas Patel Started working fulltime at Sparsh.

In 2016 Dr Tejas Patel finished his Sensory Integration course 1 and course 4, certification is affiliated to USC (University of Southern California, USA ) under two instructors Erna Blanche PhD, FAOTA, OTR/L, and Steifanie Bodison OTD, OTR/L, C/NDT.

Dr Tejas Patel also realized that water is the medium where we can get breakthrough for many challenging cases. In April 2017 Dr Tejas Patel done certification course in Aquatic Therapy ( certi in Water Specific Therapy – Halliwick, IATF, Switzerland ) under pioneer of Aquatic Therapy in world Johan Lambeck, PT, Senior WST-H lecturer.
"Prechl's Method on quantitative assessment of GENERAL MOVEMENT for preterm, term and young infants" is another breakthrough tool in Dr Tejas Patel's basket for early detection of high risk babies. This time he came in contact with a rare combination of a scientist, highly spiritual and great teacher Dr Christha Enspieler. Under her training he finished basic course in Feb 2018 and Advance course in Nov 2018 and obtained certificated From General Movement Trust, Austria with maximum score