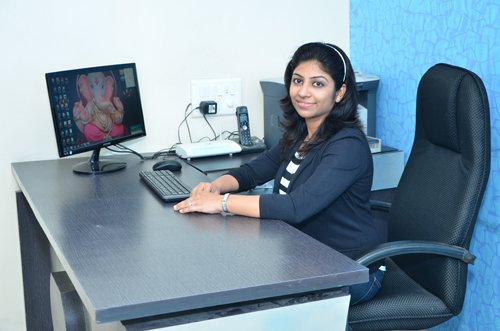 Paediatric Physiotherapist, & Paediatric Aquatic Therapist
PT, C/NDT (certi by NDTA, USA)
SIPT (certi by, USC, USA)
Aquatic Therapy (certi, ATNI, India)
Dr Mona Patel is core visionary person who viewed about Sparsh Paediatric Rehabilation Clinic and made realized Dr Tejas Patel that It may possible to have a multidisciplinary paediatric rehabilitation clinic where they can caters services which is best available and widely accepted internationally.
She has passed her schooling from M & M high school from Godhara with flying colours in 1997. On merit base she got admission Bechalor Of Physiotherapy ( BPT ) at Govt Spine and Paraplegia Hospital, B J Medical College, Civil Hospital, Asarva, Ahmedabad.
While graduation From rotatary posting in paediatric department she found spark within her self and decided to work for differently abled kids and took challenge professionally for working paediatric rehabilitation. She use to say that "If I would not have found these kids I would not have become physiotherapist". In 2001 dr mona Patel has finished her graduation.
During internship Itself Dr Mona Patel has started taking short course in paediatric rehabilitation like NEURO DEVELOPMENTAL TREATMENT (NDT) and SENSORY INTEGRATION (SI). While doing these courses she kept on going in depth of the subject and always tried to take challenges in the form of the difficult cases.
Soon after her graduation she joined KALARAV CP CENTRE in navarangpura , ahmedabad which is NGO run by NASEOH (national society for equal opportunities for the handicapped) . She worked in KALARV about 3 years and gave full throttle to pick up her career. Because of the quality of inquisitive and enthusiasm for her work and profession she won the hearts of parents and kids. In kalarav she was designated as senior paediatrc physiotherapist.
From the beginning parents satisfaction and joy on their face was the energy for Dr Mona Patel to keep working and working very hard in this field. Mean while Dr Mona Patel were also working in physiotherapy department of Ragukul Orthopedic Hospital at ghodasar and shri A.N.Chaturvedi Rotary Charitable Physiotherapy Centre.
In 2005 Dr Mona Patel and Dr Tejas Patel started working together and in 2006 they step the stone of SPARSH as a Neuro Developmental Therapy Clinic. Here they have to start with grass routes but strong foundation, depth knowledge of paediatric conditions and lot of self trust with in they have successfully started and run Sparsh in association with a very good friend Ms Vatsala Panchal .MA, DCCP, Paediatric Clinical Psycologist.
Soon after finishing her graduation till 2006 Dr Mona Patel has done so many short courses and workshops regarding paediatric rehabilitation on different subjects. But in 2006 she got breakthrough while doing a certification course on NDT (neuro developmental treatment/Bobath certificate course in management and treatment of children with cerebral palsy and other neuromotor disorder) which is approved by NDTA (Neuro Developmental Treatment Association) USA. Her mentor was Joan More, PT,C/NDT former president of NDTA.
Though paediatric physiotherapy and rehabilitation field is subjective, her instructor gave a system of independent thinking and problem solving mechanism while doing NDT certification.
In 2011 Dr Mona Patel has done Advance Baby Course which helped her to handle high risk infants in NICU and in clinical set up as well. This course is also approved by NDTA (Neuro Developmental Treatment Association) USA and instructor was Suzane Devis PT, C/NDT.
This was not enough to handle a child who has multiple neurological and associated impairments, there is something is lacking in her clinical practice that is what Dr Mona Patel realized. She also realized that there is change in trend of characteristics of impairments in new admission at sparsh. She found that there is more incident of ADHD, Autism, Dyslaxia, And other sensory Processing and Sensory modulation disorder. And then she decided to do Sensory Integration certification. She finished her Sensory Integration course 1 and course 4 in 2012 and course 2 and course 3 in 2016 and became first SIPT (Sensory Integration and Praxis Test, WPS) first certified, therapist in Gujarat, India. The SIPT certification is affiliated to USC (University of Southern California, USA ) under various instructors Erna Blanche PhD, FAOTA, OTR/L, Gustavo OTR/L, and Steifanie Bodison OTD, OTR/L, C/NDT.
Again, Dr Mona Patel found depth interest in handling children with sensory processing and sensory modulation disorders and she believed that this area is her strength. She continued exploring in this area of rehabilitation and she finished very effective course like Decoding Autism, and Vestibular Vision from Neurobioscientist Kimberly Barthel BMR, OTR in 2017.
Anxiety, Attention, Poor Arousal, less social Engagement and Hyperactivity are the issues which parents facing problem in their special need kids, Therapeutic Listening the great tool to deal with it. She also completed her Therapeutic Listening course Sheila Frick and Lynette Burke in April 2017.

There is a say that "when there is a trouble there is a way". Water has its own natural healing property. One of the great basic element created by god. Throughout the career till 2017 Dr Mona Patel and Dr Tejas Patel found great troubleshoot and powerful tool in Paediatric Rehabilitation ever found and that is Aqautic Thearapy. In April 2017 under Dr C G Prashant (Associate Professor in SDM college. Dharwad, Certified Aquatic Therapist, IATF Switzerland and Founder of ATNI- Aquatic Therapy Network of India) Dr Mona Patel completed her Foundation Course on Aquatic Therapy.

Year 2017 is learning year for Dr Mona Patel And Dr Tejas Patel, in May 2017 she completed her training program on Applied Behaviour Analysis( ABA ) under Kinnari Bhatt.
"Learning happens till last breath of yours life" that is her attitude, during her career Dr Mona Patel has done many short course which are listed below but this is not the end. She believes every child teach her a new things and it is her moral responsibility that she should give her best while handling the children because parents have kept a faith on her.
Being obsessed with water and with extreme starvation of knowledge of Aquatic therapy she completed her Certification course on Water Spaecific Therapy (WST), andBad Ragaz Ring Method (BRRM), under renowned faculty of Aquatic Therapy Joan Lamback, Senior Lecturer of IATF, and certified byIATF, Switzerland in March 2018.
Therapy should be fun, its no more "no pain no gain" formula, deeper shortening before you lengthen it are something tempting to learn new thing in soft tissue / fascia release. And in 2019 she came in contact with Susan Blum Physiotherapist from Philadelphia, founder of Total Motion Release Tots and Teen, learned about it and completed her Certification in Level 1 TMR Tots and Teen (2019), Level 2 TMR Tots And Teen (2020), Ilinois, USA